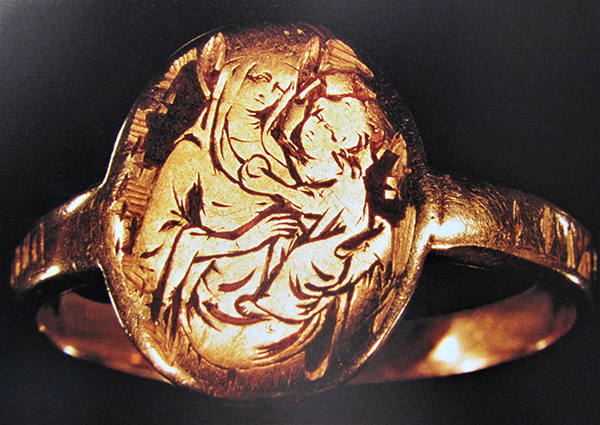 By Ellie Jones, Exeter Cathedral Archivist 
This beautiful 14th century gold ring, engraved with a charming depiction of the Virgin and Child, was discovered during restoration work in Bishop Grandisson's burial chapel in 1956. It is believed to have been a personal ring belonging to Bishop John de Grandisson, Exeter's longest serving bishop (1327-1369).
The image is a little over a centimetre in diameter and shows the infant Jesus offering up an apple – a symbol of salvation – to His Mother. The image was originally enamelled and, in the right light, traces of a dark blue starry background and hints of red among Mary's robes can still be seen. On the inside of the ring the letters IHC and XPC – abbreviations of the Greek for Jesus Christ – are incised.