On Saturday 4th August 2018, a second crane lift returned our two treble, or lightest, bells back home to the belfry, having undergone their maintenance work at Taylors bell foundry in Loughborough.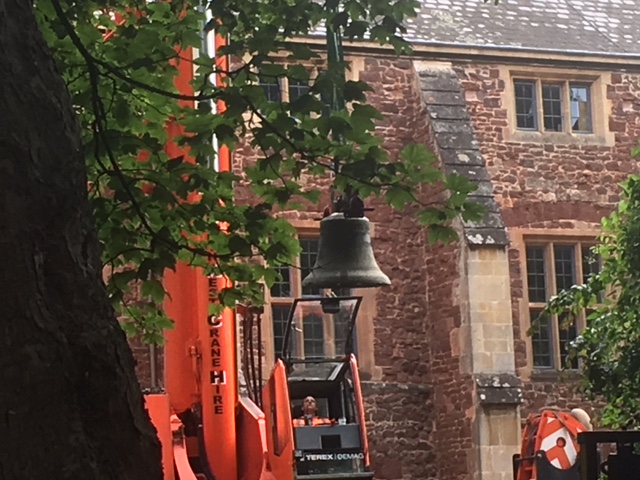 The bells were accompanied by the new clappers, and all the steel work required to construct a lockable metal grill cage around the south and east side of the bells. This is essentially a safety measure, meaning that we will be able to leave the bells up and ready for ringing far more often. At 72cwt (or nearly four tons), the tenor bell at Exeter, Grandisson, needs to be raised by three people before it can be rung – a demanding exercise to say the least. With the lockable cage, the heavier bells can be safely left up, and supervised access to the belfry for maintenance, visiting tours and groups will also be improved.
During August, the arduous job of frame cleaning continues; September will then see the frame painted, with the bell hangers assisted by volunteers from our local band of ringers. Finally, it will be time to fit the new clappers, the lockable cage, and finishing touches, as the project nears completion. All being well, if the work progresses to schedule, we are hopeful that the Cathedral bells may ring out once again by the end of September!
Clare Griffiths, Exeter Cathedral Bellringers Secretary