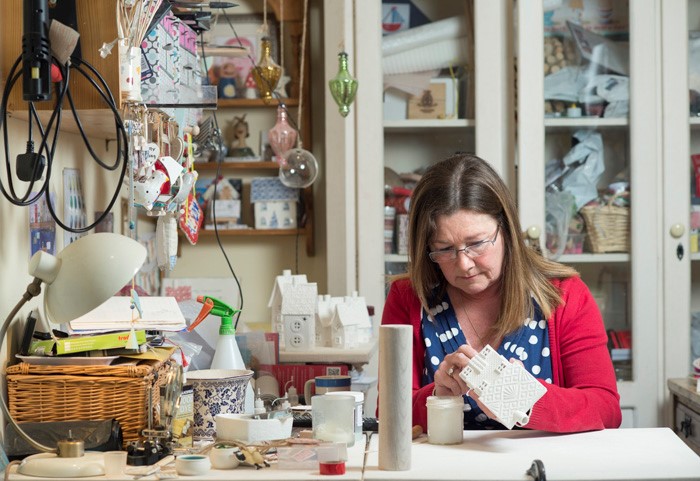 Inspiration from Devon's seaside
Alison Miles' unique pottery inspired by the scenery and wildlife around her picturesque Shaldon home, is a real hit with Christmas shoppers, and Exeter Cathedral is delighted to welcome her back this year.
Handmade in her tiny studio, each of Alison's pieces is a one-off and her stunning tea light houses, vases, lamps and hanging decorations have gained a huge following from shoppers who come back again and again to add to their collections. Her items can be found in homes across the UK, from Cornwall to the Shetland Isles.
The most popular pieces among Alison's work are her porcelain tea-light houses. By day, these miniature houses look beautiful as pieces of art, but lit up at night, they really come into their own and provide a fabulous glow to any room. Each house features a small seagull on the roof, in a nod to the wildlife around the River Teign that runs close to her studio. Alison explains how she adds in as many windows as she can to each creation, to allow the maximum amount of light to permeate through. "I also make Devon Round Houses. This is where the porcelain comes in handy as it becomes translucent when light is placed inside. But it is fickle and will do what it pleases in the kiln so folks can expect a little warpage every now and again!  This year I discovered gold and platinum lustres and I have been experimenting with tremendous results, just using small amounts on the seagulls beaks sitting on the roofs—which provides subtle hints of loveliness."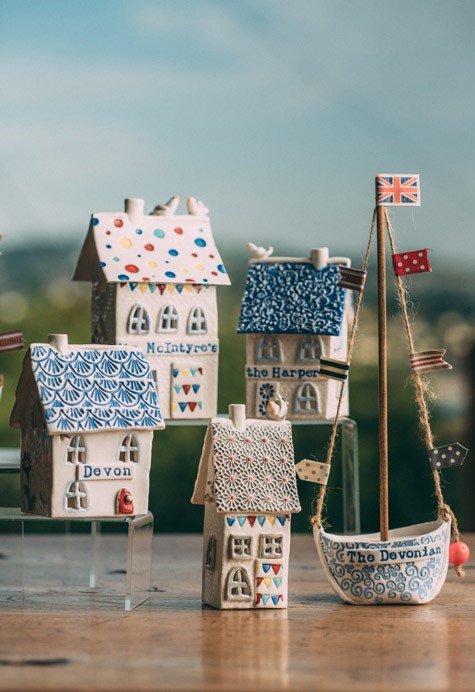 Shaping her talent
Already a huge success, Alison actually only discovered her talent at pottery a few years ago. "At school I was the least artistic in my class and always felt inadequate in art classes! But I started off doing a few evening classes at Dame Hannahs, Seale Hayne. We used terracotta clay. I realised I loved making things out of clay—I found it therapeutic and it took my mind away from the stresses and strains of life for a few hours."
Friends started asking for small items and encouraged Alison to take the plunge and buy her own kiln. Nine years later, she hasn't regretted it for a moment, despite the hard work keeping up with her customers' demands. She says: "I am very driven, I work incredibly long hours, seven days a week preparing for the Exeter Cathedral Christmas Market and I'm panicking that I won't have enough tea-light houses. But I can relax in January!"
Alison is very grateful to her loyal customers. "I have a great following. Some acquire villages from me, some large table lamps and round houses. They come back to me asking if I have any new designs to add to their village. Often a buyer will come and purchase a tea-light house for their mother as a special birthday present. Then the next day, they will get in touch to say they are keeping it for themselves and they need to buy another. I also get a lot of people saying they have been 'sent' to my shed by their loved one to buy a gift for them! All I can say is that I am incredibly lucky to have such a following."
This year's best dressed Christmas tree will have…
One of Alison's unique hand-made hanging sheep decorations. Inspired by flocks in the fields around her village, these sheep are essential for the well dressed tree of 2019. And the sheep are accompanied by butterflies, seagulls, snowmen, flower plaques, crabs and lobsters, hearts and stars to name but a few. And although they look lovely on a Christmas tree, these quirky pieces will brighten up walls and homes all year round.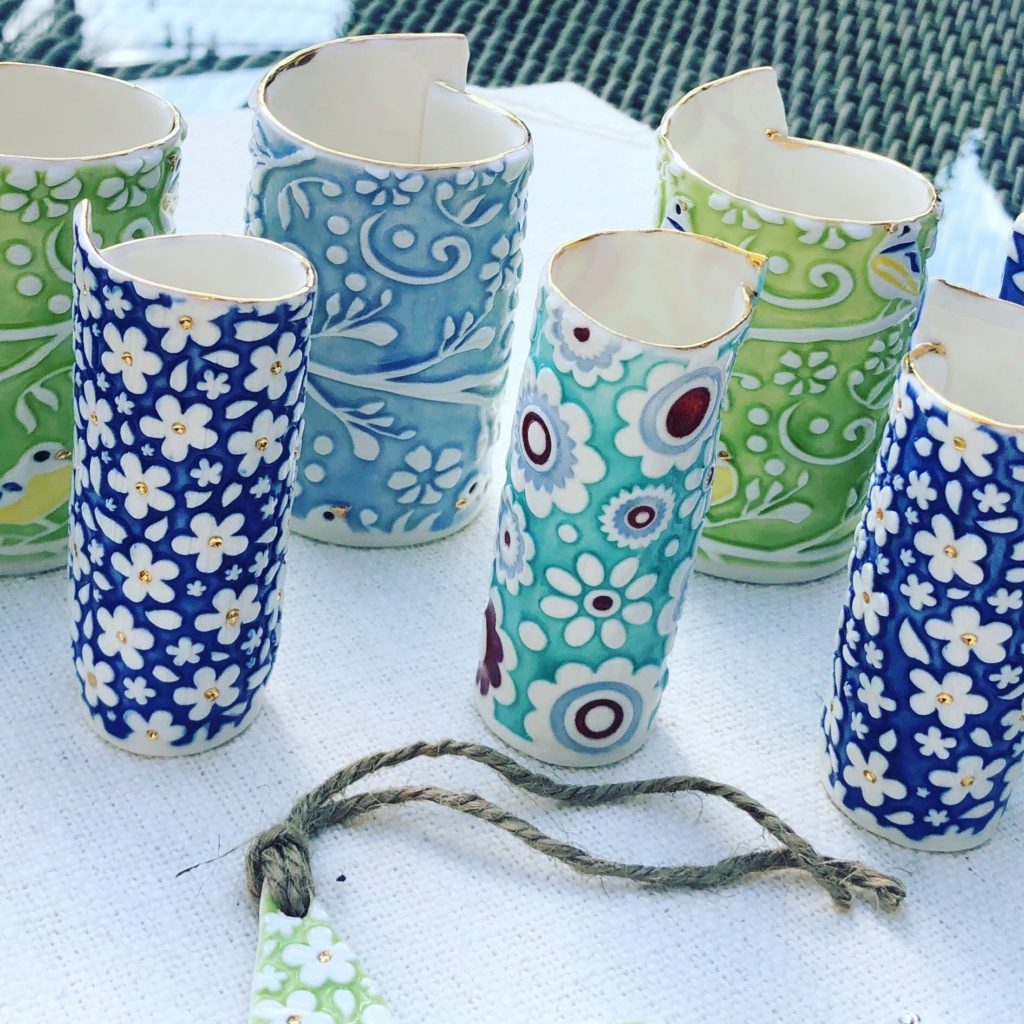 Alison's work will be on display from 16 November to 19 December at Exeter Cathedral Christmas Market, including a selection of unique hand-made gifts priced from £5 to £450.