By Canon Ian Morter
Last weekend I set off from Exmouth to spend a few days with my sister in Kent and it was something of a horticultural experience. In the first instance the reason for going to the Home Counties was so that we could visit the RHS Hampton Court Garden Festival. But as with so many of my 'little breaks' I wanted to pack in as much as possible. So we set off early on Saturday and decided that as we would be passing close-by to RHS Wisley a few hours in those wonderful gardens would be an opportunity not to miss. It was a sunny and warm day and what was encouraging was to see many young families enjoying the 240 acres of the home of British Gardening.
On Sunday my sister suggested we visited Hall Place and Gardens in Bexleyheath. Originally it was to visit the Farmers' Market (held every month), but what we discovered was a delightful Tudor Mansion with its Gardens that the local authority had taken great care to maintain.
On Monday we set off for Hampton Court, it's the first time I had attended the Garden Festival and unlike the famous Chelsea Flower Show was much more of a gardener's opportunity to purchase plants, shrubs and even trees to take home for their own garden. Set around the parkland either side of The Long Water with the manicured gardens of Hampton Court Palace open to the Festival ticket holders, it was a glorious day by the Thames.
On Tuesday I decided that I would make use of my National Trust membership to visit one of the London properties, Ham House was my destination set by the River at Kingston upon Thames. I had not realised that apart from being a stunning early 17th century building by one of King James I courtiers but later became the home of Duke and Duchess of Lauderdale becoming the family seat of The Earls of Dysart and had retained many of the original furnishings and art works. But it was the parkland and gardens that gave this fine Jacobean house its magnificent setting. The walled kitchen garden produced the vegetables for the Orangery Restaurant as well as many flowers. The formal knot garden of clipped topiary hedges enclosing lavender and medicinal herbs was like stepping back four hundred years.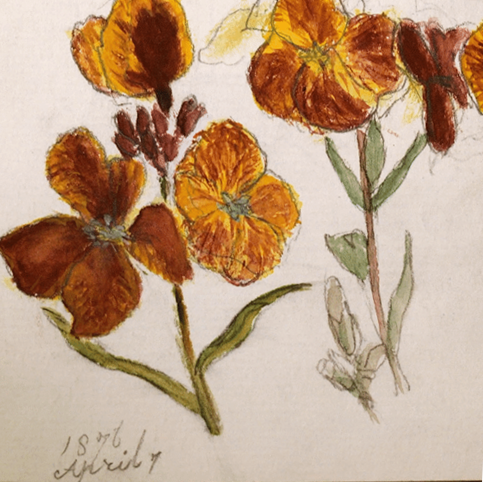 My final day in London was spent partly at the V & A as I wanted to visit the Beatrix Potter Exhibition entitled Drawn to Nature. I expect we are all familiar with the stories of Beatrix Potter from our own childhood. Those delightful anthropomorphic tales of Peter Rabbit, Mrs Tiggy-Winkle, Jemima Puddle-Duck and many more. But what this wonderful exhibition succeeded to do was to show there was much more to Beatrix Potter than a children's story writer and illustrator. From a very early age she was a keen observer and recorder of nature.
From childhood Beatrix drew accurate observational sketches of both fauna and flora. She was adept in her use of the microscope and she accurately sketched her observations with water colours.
From childhood holidays with her family in Cumbria and Scotland she developed her love of landscape painting. It was this love perhaps and perhaps one might say passion for nature and wildlife which enabled her to paint so realistically the illustrations for her animal stories. These were originally letters to the children of her family and friends.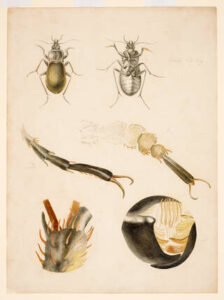 In the early years of 1900s having persuaded Frederic Warne & Co to publish her 'little books' she became financially independent of her family and was able to buy Hill Top Farm near Sawrey in the Lake District, firstly as a retreat from the duties of caring for her aging parents in London and then as a farmer who championed the breeding of Herdwick sheep that were hefted on the Fells. With the continued profits from her publications Beatrix Potter was able to purchase many small farms in the Lake District, restored the sometimes derelict homesteads and worked tirelessly with the National Trust to secure and preserve the farming traditions and landscape of The Lakes. At her death in 1943 she gifted her 4,000 acres of land including 15 farms and building to the National Trust and all of these are still managed by The Trust through their tenant farmers to this day.