Exeter Cathedral Christmas Market 2020 Update
Due to the government's announcement on Saturday 31 October of a second national lockdown, we are very sad to have to announce that the Exeter Cathedral Christmas Market can no longer take place this year.
Having significantly redesigned the Christmas Market to ensure appropriate safety measures, we had hoped to be able to continue the tradition this year, to give a much needed boost for local businesses, residents and visitors.
Today's news will be disappointing for many, as it is for all of us at the Cathedral. However the pandemic is a continually developing situation, and we all want to do everything we can to ensure the safety of the community and to minimise strain on our NHS, carers and other key workers.
Our thanks go out to all the traders who have patiently supported our efforts this year, and to Exeter City Council, the Safety Advisory Group and Public Heath England, for their help and guidance.
As we enter a difficult winter, we pray for all those affected by Covid-19, in health, bereavement or through impact on work and finances, and we pray for the strength to support and sustain each other.
---
Exeter Cathedral Christmas Market 2019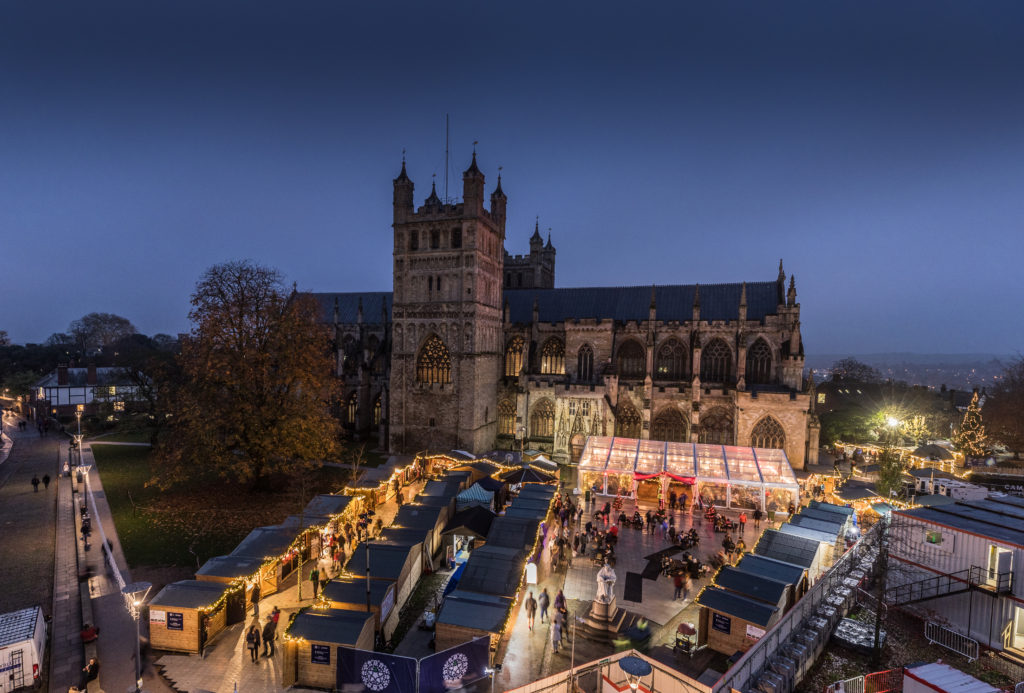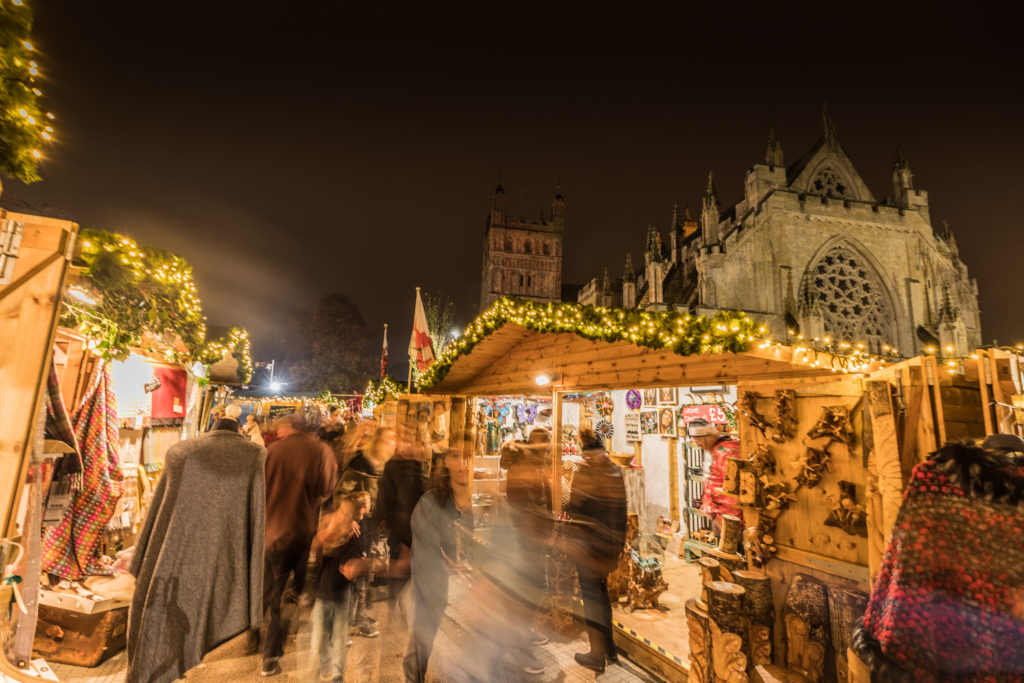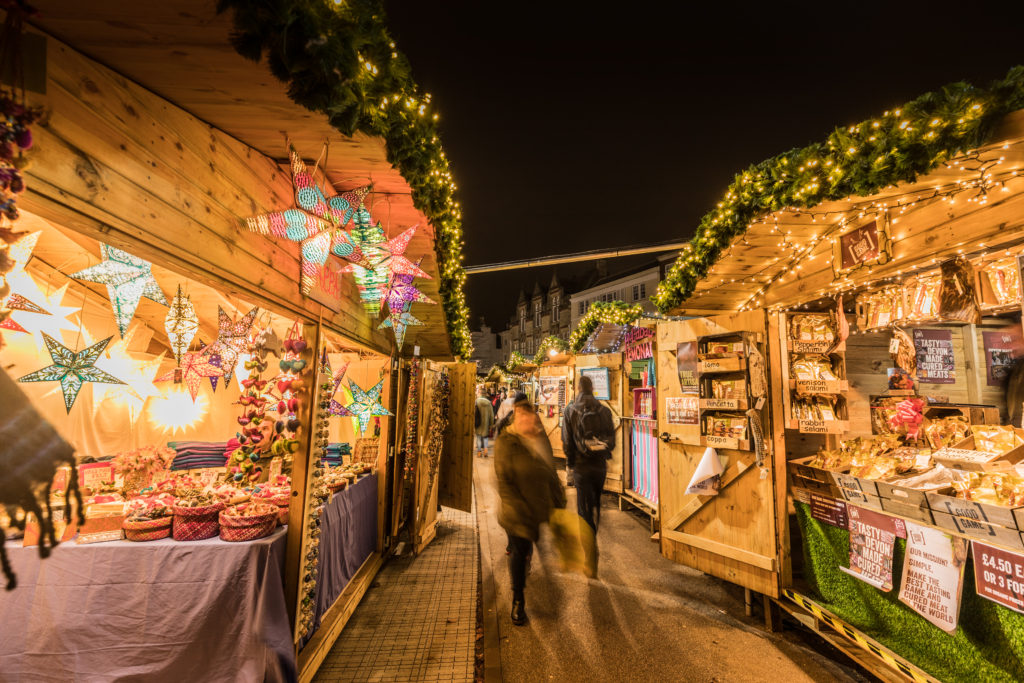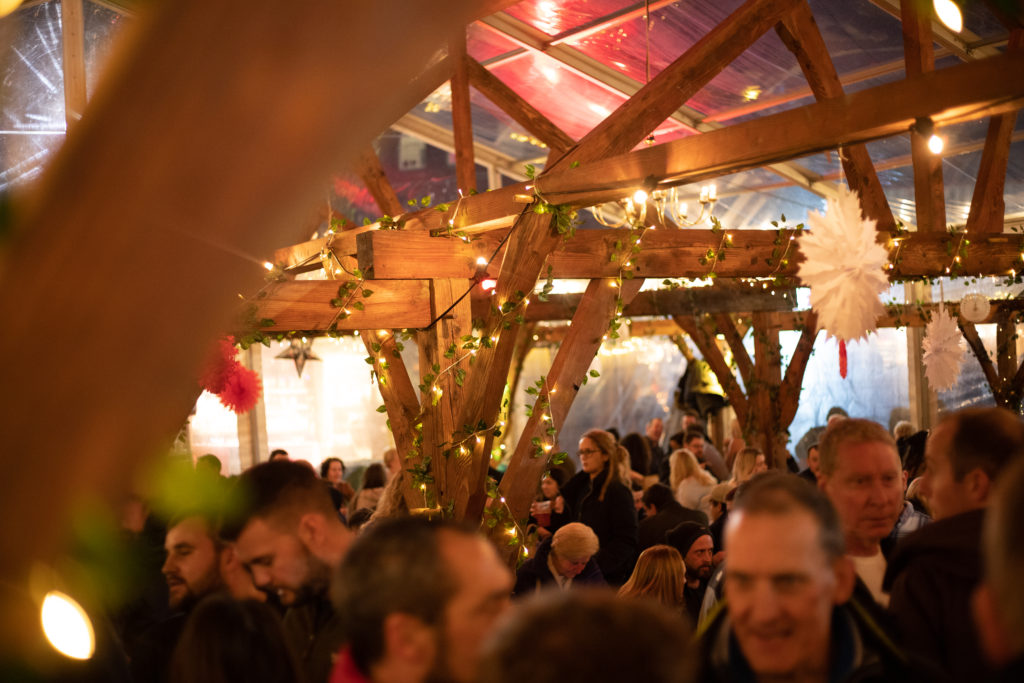 Trading at the Christmas Market 2019
Exeter Christmas Market' has been running for seven years on Exeter Cathedral Green and is recognised as one of the best in the UK. A combination of unique location with the stunning backdrop of Exeter Cathedral alongside high quality exhibitors has established an 'event' which is now an integral part of the city centre festive celebrations and Christmas shopping experience. Exeter Cathedral Christmas Market was a finalist at the 2018 & 2019 Exeter Living Awards for 'Best Event' and the bar 'The Cathedral Tavern' won the award for the best bar. Featuring a selection of crafts, fresh food and a bustling atmosphere helped by delicious food stalls and Bavarian-style bars, Exeter Cathedral Christmas Market is inspired by German Christmas markets. With traditional wooden chalets it attracts in excess of 600,000 visitors each year over the 34 day period. Exeter Cathedral Green, the jewel in the crown in the city centre is a prime location for shoppers and is on the doorstep of the main shopping district. The Cathedral itself is a hub of activity at Christmas with its many carol services, concerts, events and education activities making it the perfect venue to experience the festive atmosphere both inside and out.