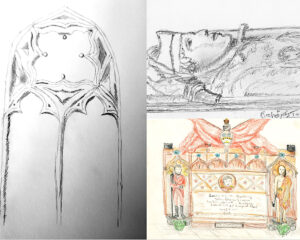 Enjoy a mini-tour of Exeter Cathedral followed by an opportunity to draw a particular aspect of it – all with the help of illustrator and tour guide Olivia Palmer.
You will explore an area of the building, learn about its architecture and history, and study its decorative qualities. Then it's off with your sketchbook to draw a view or feature, with Olivia on hand to offer guidance and encouragement.
There will be touring and drawing in different areas of the Cathedral over a period of a few weeks, so feel free to join us more than once!
This activity is suitable for adults of all artistic abilities, so why not come and try something new?
Schedule
Tuesday 4th January – The Nave
Tuesday 11th January – The Crossing
Tuesday 18th January – The Quire
Tuesday 25th January – The Presbytery
Tuesday 1st February – The Quire Aisle
Please bring your own sketchbook or paper & clipboard, along with dry art materials, such as pencils, pen and charcoal.
Price: £10 per person + booking fee
Duration: 2 hours