Summer Music Series: Lips Collide
Thursday 7 July 2022 2:00pm
New local band, Lips Collide, will be sharing 7 original songs for the Summer Music Series on Thursday 7 July. Their music combines elements of funk, soul, hip hop, indie rock, and so on, to create a sound they love.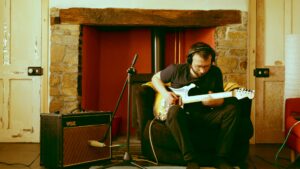 Lips Collide is, as the name suggests, a collision of two creative forces. It all started with Jackie Koury and Howard Collins, whose unique paths through sound and sound creation have met quite naturally and symbiotically in Exeter. The less trodden path they are braving together is an exploration to the outer-limits of guitar music, and a prolific meeting of two wondrous creative minds. Come and watch them collide!
---
Additional Information
This event is included in the Cathedral's standard admission price.
Running from 30 June to 1 September, this year's Exeter Cathedral Summer Music Series brings you an inspired season of performances by esteemed organists, orchestras and choirs, visiting from across the UK and Ireland.