Slow Book Group: 'Everyday God' by Paula Gooder
Third Thursday of each month 16 June – 17 November 7:30pm-8:30pm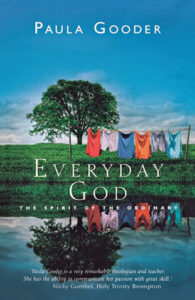 Paula Gooder has written a series of books exploring the seasons of the Christian year, including Advent, Lent, Easter. In Everyday God she explores the longest period of the liturgical year, Ordinary Time. We live in a culture that revels in the special, the extraordinary, the new, the unusual. Yet, 'the ordinary' is the very essence of life. Gooder provides reflections on 33 biblical texts reflecting on how God breaks into everyday life, and the hidden depths of richness and potential of ordinary times.
A slow book group, co-led by Clare Bryden and Revd Phil Wales, is being planned for those who wish to read and reflect on Gooder's writings together. There are six months of Ordinary Time from June to November 2022, and the reflections are conveniently divided into six parts. So meetings will take place on Zoom at 7.30-8.30 pm on the 3rd Thursday of each month, and the first will be on 16th June.
We shall devote our time together to reviewing what we have read, sharing insights, seeking answers to questions and reflecting on how the Spirit is calling us to deepen our faith and prayer.
Places are limited, but there are still a few remaining. If you would like to sign up or have any questions about joining please email Revd Phil Wales, Assistant Curate