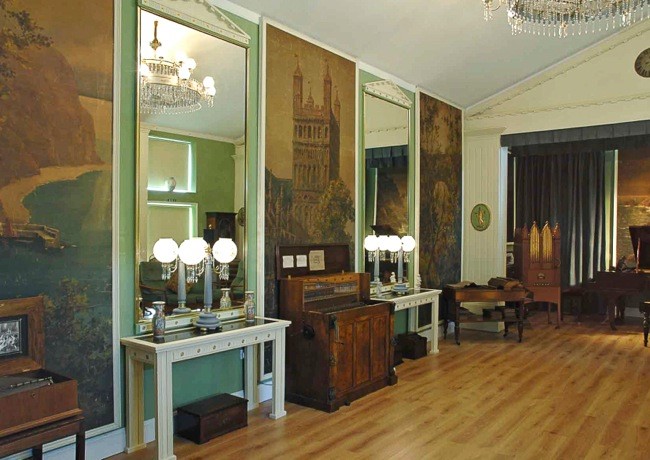 As part of the Friends of Exeter Cathedral 90th anniversary celebrations, The Friends are delighted to offer a guided tour of the finest private mechanical music collection in the South West.
It is housed in Chudleigh at Aeolian Court, the home of Robert and Jackie Hough. It is displayed in an exquisite music room and recreates the authentic atmosphere of a bygone age. There are a wide variety of instruments to see and hear from the 1800s to the present day all in working order – music boxes, barrel organs, polyphons and pianolas.
In addition, there are on display the original paintings, including one of the cathedral, from the stage of the Theatre Royal, Exeter, and a model of the theatre. The Theatre Royal originally stood on the corner of Longbrook Street and New Road. It was the scene of one of the worst fires in theatrical history which eventually led to the introduction of a safety curtain in all theatres. It was closed in 1962 and the site has been re-developed several times.
The tour will commence at the house at 14.30, followed by a delicious clotted cream tea and an optional tour of the garden.
Tickets
£28 per person.
Tickets are available from The Friends Office, The West Wing, The Palace, Exeter EX1 1HY. Office hours 9am-1pm Mon through Thurs.
Email: [email protected]
Telephone: (01392) 423931