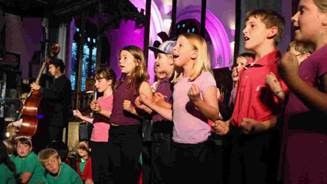 FREE Music Training Session at Exeter Cathedral Monday 24th February 2020
Exeter Cathedral is offering this great opportunity for teachers to enhance their knowledge of teaching music. This is for specialist and non-specialist teachers as we hope to share with as many teachers as we can in the southwest. This session will be led by Dominic Ellis-Peckham and will be an extension of the 'Friday Afternoons' Music Training, previously offered.
Friday Afternoons is a Snape Maltings led singing project connecting teachers, leaders and young people with contemporary composers, through creating high quality repertoire, resources and training to encourage challenging and exciting music making experiences for all. During this session, you'll be introduced to the free resources available to you on the Friday Afternoons website, guided through practical tools and tips for supporting quality singing in your classroom, and shown how to make the most of contemporary classical repertoire in your settings.
The session will be held in the Chapter House from 15:30 to 17:30.
NB. An external group of specialists will be taking the session and not the Cathedral's own music department.
You are also invited to attend Evensong afterwards. If you've never attended this before, it's a fantastic chance for a new experience with an ancient rite. 17.30 – 18.15.
Tickets
Please only book if you feel that you will use the allotted ticket, so that we can get as many interested teachers attending as possible. Limited to 80 spaces.