With Alex Leger and Ivan Haigh
We invite you to a drinks reception and seminar hosted jointly by Exeter Cathedral and The Melanesian Mission to raise awareness of the issues facing Melanesia and in particular the Solomon Islands due to rising sea levels, and to raise funds for MMUK's research into this area and for Exeter Cathedral.
Tickets
Tickets for this fundraising event £15 (concessions £10) are available from 01392 285983 (Monday to Friday) and online.
About the speakers
Devon born, Alex was educated at Exeter School before leaving to spend a year as a VSO volunteer in the Solomon Islands. On his return he studied industrial engineering and management sciences at Loughborough University. He then joined the army on a permanent regular commission before joining the BBC in 1973 as a junior management consultant.  Three years later came an opportunity to work in television programme production where he stayed for the rest of his BBC career. He has produced two programmes about the Solomons for the BBC and in 2016 returned to feature the islands under threat from climate change that he had filmed previously in 2002.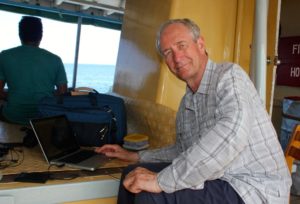 Dr Ivan D Haigh is Associate Professor in Coastal Oceanography within Ocean and Earth Science, National Oceanography Centre Southampton at the University of Southampton. He is an expert in changing sea levels and in how to effectively translate global projections of sea level rises in practical terms that aid coastal managers and plan for erosion and flooding to come.