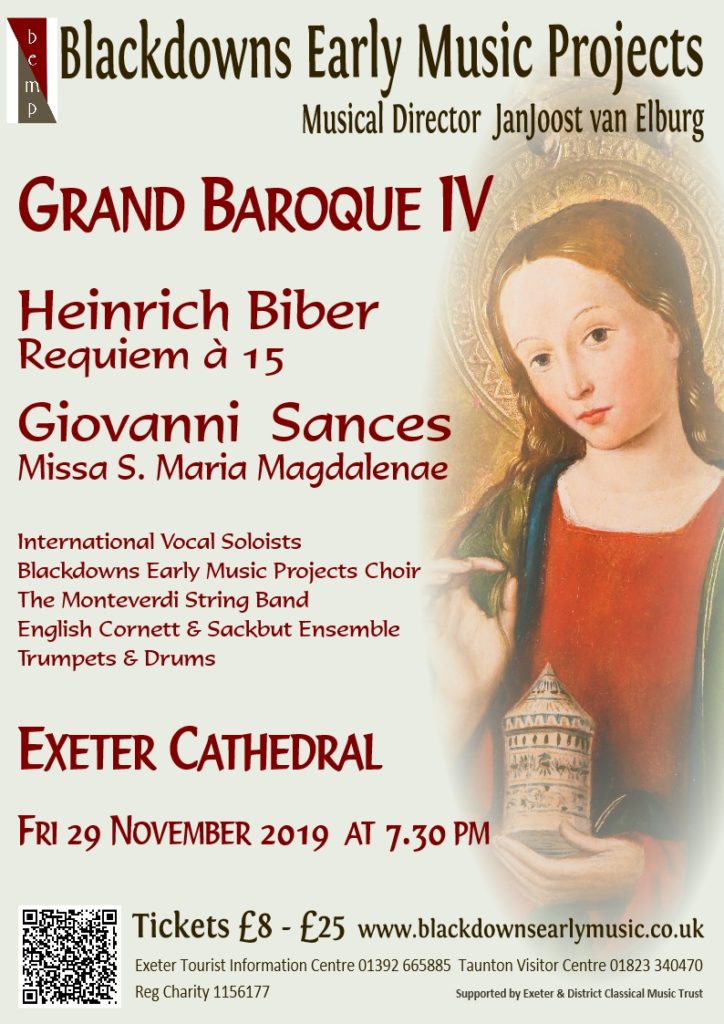 Conductor: JanJoost van Elburg
Soloists: Amy Haworth, Claire Lees, Caroline Trevor, Ingeborg Bröcheler, Mark Dobell, Mark Bonney, Thomas Flint, Simon Whiteley
BEMP choir with The Monteverdi String Band, The English Cornett & Sackbut Ensemble, trumpets and drums
HEINRICH BIBER:  Requiem à 15
GIOVANNI SANCES: Missa Sancta Maria Magdalenae
and supporting works
Blackdowns Early Music Projects is proud to present the fourth in its biennial GRAND BAROQUE series, featuring rarely heard, large works fully deserving a Cathedral setting! We are indebted to The Exeter and District Classical Music Trust for their continued support.
Biber's career as a virtuoso violinist was accompanied by a magnificent output of large choral works for Salzburg Cathedral.  With all the ceremonial instrumentation available to him, this Requiem written for the funeral of Biber's long term employer Archbishop Maximillian Gandolf, and shows Biber at his best. The music is  brimming with rhythmic vitality, harmonic interest and written in A major,  unusual for the occasion.
Giovanni Sances worked most of his adult life in Vienna for the rich Habsburg Court and was frequently commissioned to write large works for specific occasions. The Missa S. Maria Magdalenae was likely to have been used at the wedding on her nameday of Eleonore Magdalena Theresia, Emperor Leopold I's daughter. A playful work for double choir, this Mass is full of joy.  The first transcription of this work was completed in 2004 for the BEMP organisers, who are thrilled to be performing it for the first time in the SW in suitable surroundings!
Tickets
Reserved seats  Front Nave £25   Mid Nave £20  Rear Nave  £15
Unreserved side aisles £12 and £8.
Early bird discounts available until August 31st.