Positive Mental Health and Wellbeing Tour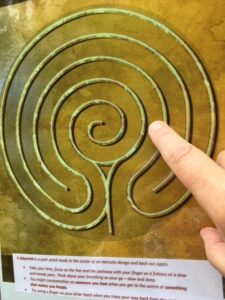 Let our guides walk your class through a stimulating but tranquil journey around this amazing building and its spaces with plenty of historical facts thrown in for good measure.
In this visit we are looking at simple guidance on how to maintain positive mental health and wellbeing. Having good mental health helps us to work productively and fruitfully, it promotes good relationships and supports us to make a good contribution to our community / school / friendship group etc.
The tour focus will demonstrate that using this building, experiencing its stories, chapels and its decorations, has the potential to uplift and promote good mood and a sense of comfort. We will offer a few exercises to help in practice, noting the feelings of contentment that benefit us and how we can bring them forward with a few exercises.
We aim to centre on the senses: the power of sound and singing, focussing the mind on movement and touch with the use of finger labyrinths
Enjoying the smell of incense and trying hypnotic candle watching.
We will also introduce positive affirmation fortune tellers to support the session.
Links: History, RE, Relationships, Health and Sex and Relationships Education, or RSHE.
Suitable for: KS2, KS3
Duration: Flexible but typically 60 minutes
Cost: £2.50 per student
Art in the Cathedral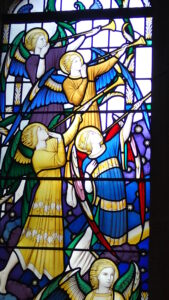 The tour will take you on a guided trail around the Cathedral where students will be encouraged to observe and respond to a variety of materials and artefacts and decorations. These might be in the form of carvings, objects, paintings, patterns, textiles and designs.  There are many cathedral artisans working together to adorn this lovely building – stonemasons, glaziers, tapisers, florist and artists. We will be exploring the value of art in a sacred space and what is planned for future displays.
Explore how decorative art forms help Christians to pray and worship.
Find out what is the relevance of the Icon and how it is made.
Look at the images depicted in the stained glass windows. How do they tell or story, how can we work out who made them or how old they are?
Explore important furnishings such as the lectern, altar, pulpit, Bishops Throne, and tombs.
Links: History, RE, Relationships, Art and Design or RSHE.
Suitable for: KS1, KS2, KS3, KS4
Duration: Flexible but typically 60 minutes
Cost: £2.50 per student