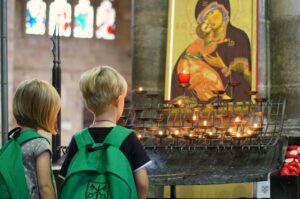 We welcome students from all over the world to Exeter and look forward to showing them the many engaging aspects of our beautiful Cathedral.
If you are a planning a visit please download the form and complete it before making a visit. Please process the paperwork with our Welcome Desk before your group enters the Cathedral. You might like to allow an additional 15 minutes for your group to visit our Shop!
Please also note that there is a short 2 minute prayer on the hour, every hour, where we ask everyone to be still and quiet. Please make your group aware. Thank you.
For any further information on rates and details please call the Education department: 01392 345887