Educational Activities and Crafts
Workshops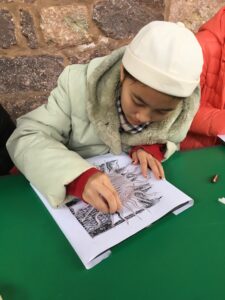 £2.50 per pupil
Give your pupils a memorable day by accompanying their guided tour with a workshop.
Most sessions give the opportunity to make something that the pupils can then take home with them.
Try
brass rubbing – learn more about historic brasses, create montage pieces of history to take home
mini stained-glass shrinkie plastic designs, that can be made into keyrings or hangers
heraldry – discover, explore and design your own coat of arms
mini medieval models – the models help explain how this wonderful building was put together, then make a mini-catapult
Roof and tower tours
£5/£3.50 per pupil
Your visit to Exeter Cathedral isn't limited to the ground floor!
Our guides can take you on a true behind-the-scenes tour of the upper levels of the Cathedral. Climb high above the Nave, walking the length of the famous ceiling. Visit the bell ringing chamber and North tower before emerging onto the roof with its stunning views over the city. Suitable for ages 8 and over, booking essential. A Roof tour is £5 per child and a Tower tour is £3.50 per pupil.
Maximum group size is 15, height restrictions and clothing rules apply.