Thursday 29th August 2019 at 19:00
Programme
Fugue sur le theme du Carillon des Heures de la Cathedrale de Soissons Op. 12
Maurice DURUFLÉ (1902-86)
Hornpipe  (from The Water Music)
George Frederic HANDEL (1685-1759)
Chanson de Matin, Op. 15 arr. Herbert BREWER
Edward ELGAR (1857-1934)
Prelude and Fugue in C BWV 547
Johann Sebastian BACH (1685-1750)
Chorale no. 1 in E major
César FRANCK (1822-90)
Prelude and Fugue in G minor Op. 7
Marcel DUPRÉ (1886-1971)
Chant de Mai
Joseph JONGEN (1873-1953)
Orb and Sceptre (Coronation March) arr. William McKIE
William WALTON (1902-83)
Carillon on "Orientis Partibus"
Arthur WILLS (b. 1926)
Tickets
Tickets £8 adult, £4 student and FREE for Under 18s. Booking available from 01392 285983 (Monday to Friday) and online.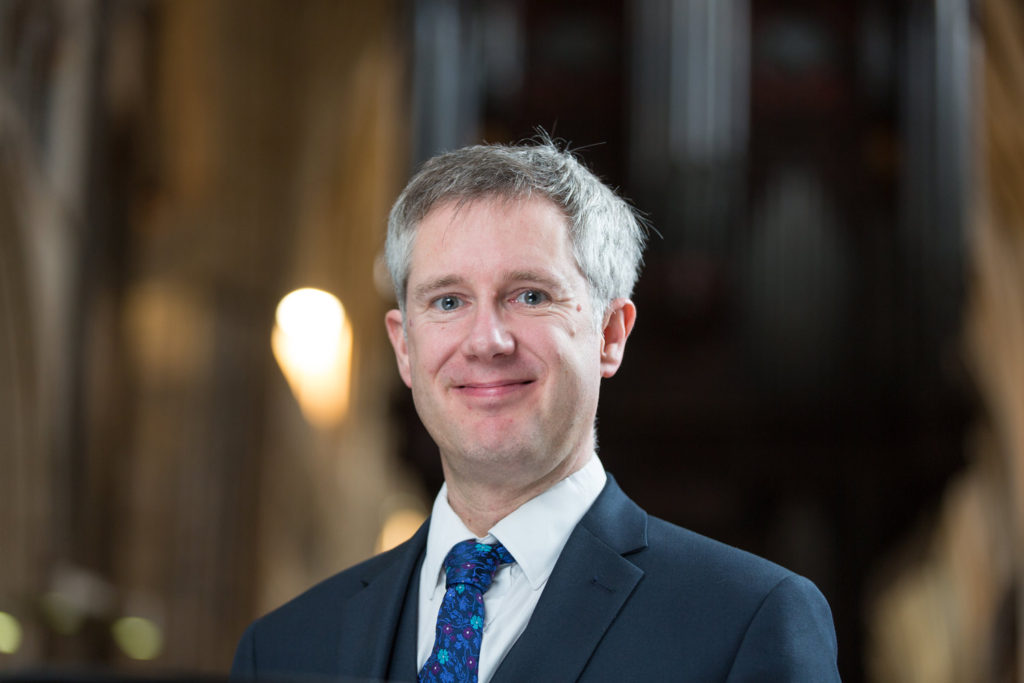 About
Timothy Noon received his early music education as a chorister at Hereford Cathedral, later learning the organ with Dr Roy Massey. At the age of seventeen he was appointed Organ Scholar of Canterbury Cathedral, and the following year became Organ Scholar at Christ Church, Oxford where he also read for a degree in music. In 1993 he became a Fellow of the Royal College of Organists, winning six prizes in the examination, including the coveted Limpus prize. On graduating with First Class Honours, Timothy was appointed sub-organist of St Patrick's Cathedral, Dublin. He returned to Canterbury Cathedral as Assistant Organist in January 1997, subsequently becoming Organist and Master of the Choristers of St Davids Cathedral (Wales), then Director of Music at the Metropolitan Cathedral of Christ the King in Liverpool.
He has appeared many times on television and radio and has made numerous commercial recordings to date as soloist, accompanist and conductor. As an organist, he is a frequent solo performer, giving concerts in many prestigious venues across Europe and New Zealand.
To be with his Kiwi wife, Elizabeth, Timothy moved to New Zealand in 2011, accepting the position of Director of Music at Auckland Cathedral of the Holy Trinity. Immersing himself in the country's musical scene, he worked not only on a daily basis with the cathedral's three choirs, but by serving as a council member of Australia and New Zealand College of Organists, on the governing body of the New Zealand Choral Federation, and participating as organist in projects with Auckland's main orchestras.
In January 2016 Timothy returned to the UK (with Elizabeth!), to take up the post of Director of Music at Exeter Cathedral.