Sunday 13th January 2019 at 19:00
Speaker: Canon Dr Mike Williams 
For Holy Ground in January, we invite you on a journey from font to (high) altar. In this 'Eucharist on the move' we get in touch with the experience of migrants who are on the move in our world. We will remember that we pass through the waters of baptism, and journey in the desert, to find a welcome at the banquet of God's kingdom. Join us as we travel together!
The talk, from Dr Mike Williams, will come in the midst of our worship – following our gathering and hearing of scripture and before we share communion together.
Mike will explore the political, economic and ethical issues that are at the heart of the debate about our identity, culture and idea of being a nation state that is about to leave the European Union.
With more than 230 million people on the move worldwide, migrant-receiving societies such as the United Kingdom, Europe and the United States confront many similar immigration challenges — but they also experience the benefits that migrants can bring. European and U.S. policymakers alike need to determine admittance criteria for legal immigrants, decide between temporary and permanent labour migration programs, find solutions to reduce illegal immigration, and address the issue of integration. At the same time, policymakers must recognize that migration has important implications for domestic policy concerns, such as national security, economics, identity politics, and social cohesion. Migration is a global reality with theological implications. Are we all created equal by God? Do we all have the same human rights regardless of where we are born? These and other questions will be explored at Holy Ground in the context of worship.
About the speaker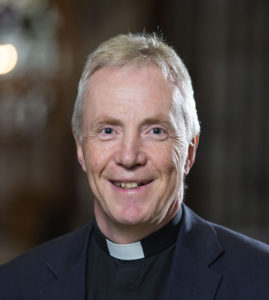 The Rev Canon Dr Mike D Williams is the Canon Treasurer at Exeter Cathedral. He has been an officer in the Royal Marines, a CEO in the NHS and academic at Exeter University. He studied immigration recently through a University of Oxford course and is keen to explore the issues in the context of a Christian Cathedral community.
About Holy Ground
Holy Ground is an exciting opportunity to explore, question and express Christian spirituality and values in a beautiful and ancient setting. All are welcome at Holy Ground which takes place on the second Sunday of every month and is a mixture of creativity and contemplation. At Holy Ground, we enjoy combining creative approaches to spirituality with stimulating and open-minded discussions about Christianity and its contexts, as well as creating spaces for quiet reflection upon God, ourselves and the world.