Sunday 10th February 2019 at 19:00
Speaker: Rt Revd Jackie Searle, Bishop of Crediton
'I know the plans I have for you says the Lord' Jer 29:11
Does God gave a plan for our lives?
How do we know what God might be calling us to do or be?
What is 'a vocation' and who has it?
How do we understand our desires, ambitions and choices in the light of God's desire and call?
Come and explore these themes with Bishop Jackie, who has a number of vocations, not just the obvious one.
In conversation, Bishop Jackie will talk about her own story of hearing God's call and explore ways in which we all might respond to where God is calling us.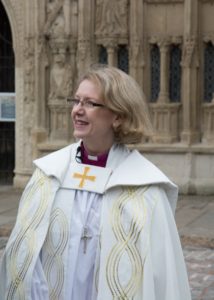 About the speaker
Bishop Jackie is the new Bishop of Crediton. She has previously been a primary school teacher, a lecturer in Applied Theology at Trinity College Bristol, a parish priest in Derby, and Archdeacon of Gloucester and Residentiary Canon of Gloucester Cathedral.
About Holy Ground
Holy Ground is an exciting opportunity to explore, question and express Christian spirituality and values in a beautiful and ancient setting. All are welcome at Holy Ground which takes place on the second Sunday of every month and is a mixture of creativity and contemplation. At Holy Ground, we enjoy combining creative approaches to spirituality with stimulating and open-minded discussions about Christianity and its contexts, as well as creating spaces for quiet reflection upon God, ourselves and the world.