Tuesday 17th April 2018 at 15:00
Exeter Cathedral possesses one of the most important manuscripts from medieval England: Exon Domesday was almost certainly presented to William 'the Conqueror' at a meeting of his barons at Old Sarum on 1 August 1086. Its core is the immediate source of that magnificent abbreviation 'the Domesday Book' (Great Domesday), for the five-south-western counties. It also contains lists, summaries, tax accounts and details of changes to the structure and obligations of manors. It gives more personal and place-names than its successor and it counts animals. Now a large fragment but offering significant proof of the reach and sophistication of the early English state. Its booklets were written at speed by two dozen Francophone scribes whose erasures and corrections together with its content and arrangement provide key evidence for the 'Domesday Process'.
Since 2014 researchers from King's College London and the University of Oxford have been studying the manuscript intensively combining state-of-the-art digital technology with traditional scholarly methods, aiming to understand how the manuscript was made, what it contains, and to present this to a wider public.
Drop-in sessions
Each masterclass takes place at 15.00, 15.30, 16.00 and 16.30.
Booking essential. Telephone 01392 285983 or book online. Admission free.
How to read a Domesday entry (Dr Frank Thorn with Astrid Khoo; Pearson Education Centre)
Book tickets
How to read the geld accounts (Dr Chris Lewis; Chapter House)
Book tickets
How to intepret the Exon manuscript (Dr Francisco Álvarez López and Professor Julia Crick; Richard Eyre Room, West Wing, Bishop's Palace)
Book tickets
How to explore the Exon website (Professor Peter Stokes; Library Reading Room, West Wing, Bishop's Palace)
Book tickets
There will also be a Spotlight on Exon from 15.00 until 17.30 (a small selection of booklets from the Exon Domesday manuscript) with Professor Stephen Baxter and the Cathedral team in attendance.  No booking required.
Professor Stephen Baxter, University of Oxford, Co-Investigator of the Exon Project, will give a landmark lecture in the Cathedral setting out the historical implications of the team's discoveries. Find out more
Map of the Cathedral precincts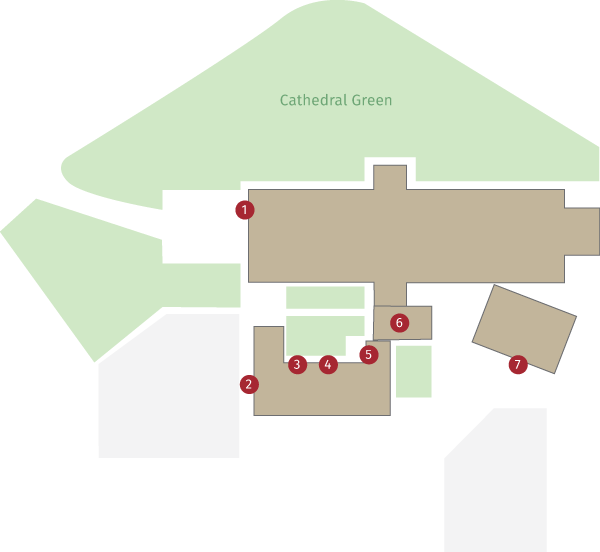 Cathedral Entrance
Cathedral Offices (1 The Cloisters)
Pearson Education Centre
Toilets
Cathedral Cafe
Chapter House
West Wing, Bishop's Palace (Library and Archive, Reading Room, Richard Eyre Room)
Contributors
Dr Francisco Álvarez López, King's College London/University of Exeter (Research Associate)
Professor Stephen Baxter, University of Oxford (Co-Investigator)
Professor Julia Crick, King's College London (Principal Investigator)
Miss Astrid Khoo, King's College London (Project Intern)
Dr Chris Lewis, King's College London (Research Associate)
Professor Peter Stokes, École Pratique des Hautes Études, Paris (Co-Investigator)
Dr Frank Thorn, King's College London (Visiting Research Fellow)