Sunday 18th November 2018 at 19:00
About Holy Ground
Holy Ground is an exciting opportunity to explore, question and express Christian spirituality and values in a beautiful and ancient setting. All are welcome at Holy Ground which takes place on the second Sunday of every month and is a mixture of creativity and contemplation. At Holy Ground, we enjoy combining creative approaches to spirituality with stimulating and open-minded discussions about Christianity and its contexts, as well as creating spaces for quiet reflection upon God, ourselves and the world.
Holy Ground is a chance for those from all Christian traditions to explore their ideas and beliefs in the open and generous setting of Exeter Cathedral, as well as a place for all those who are simply curious about Christianity and about God, irrespective of background or tradition.
We enjoy a creative and contemplative act of worship, at the heart of which is a celebration of the Holy Communion or Lord's Supper. This part of the evening lasts approximately 45 minutes and is followed by coffee.
We then welcome a guest speaker. This is a great chance to hear talks on matters of faith, arts and social justice, and to engage in discussion and debate with others in a lively and open-minded setting. Recent speakers have included Brian McLaren, Dave Tomlinson and Jayne Ozanne.
About Esther Reed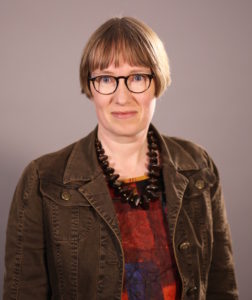 Esther D. Reed is Professor of Theological Ethics and Director of the Network for Religion in Public Life, an interdisciplinary research partnership that links students and staff at the University of Exeter with persons and institutions who share interests in how religion interacts with public life. Her most recent book The Limit of Responsibility: Engaging Dietrich Bonhoeffer in a Globalizing Era (Bloomsbury, 2018)  frames the question of responsibility as a problem of agency in relation to the systems and structures of globalization. Since January 2014, she has been involved with the Mining and Faith Reflections Initiative — an ongoing series of dialogues that began when CEOs from major companies in the mining sector approached the churches with questions about whether, or how, to partner for development in some of the local communities that host mine sites.  More recently, she has been honoured to play a role in the Naval Service Ethics Programme's (NSEP) reinvigoration of professional ethics training and eduction. Esther's local church is St Thomas Methodist. She enjoys a bit of gardening and walking.