One of Exeter Cathedral's full-time stonemasons has been presented with his foundation degree in Gloucester Cathedral.
Owen Whitfield joined the team in 2013 completed the two year course, run by the Cathedral Works' Fellowship and validated by the University of Gloucestershire.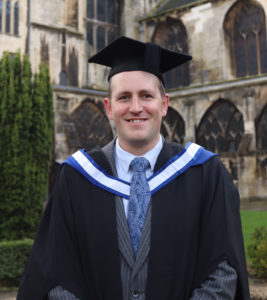 Along with modules in architecture, archaeology and the principles of historic building conservation, students on the course carry out a series of practical assignments including historic ornamental carving and two work-based projects.
Commenting on the news, Chris Sampson (Clerk of Works, Exeter Cathedral) said,
"The foundation degree is firmly established as part of our masons' personal and professional development programme. It also helps provide skilled crafts-people whose job is to help ensure that our great Cathedrals will be restored and conserved for future generations."
Exeter Cathedral is currently in the early stages of a major works programme. Stonemasons employed by the Dean and Chapter carry out much of the work. They use traditional techniques and original materials where possible as part of the restoration.
Cathedrals receive no regular funding from the Church of England or the UK Government, and must always look to innovative ways to generate income to fund their restoration. Exeter Cathedral's Big LEGO® Build is one such project, which sees members of the public give donations to help build a scale model of the Cathedral from 300,000 LEGO bricks.