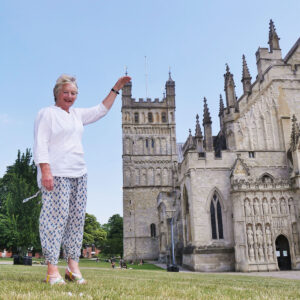 Exeter Cathedral is a medieval masterpiece which has many treasures both in its fabric and its people. One of which is the not so medieval Anne Eyre who WAS planning to make a giant Jump from its North Tower to celebrate her 80th birthday!
Anne is the widow of Richard Eyre, who was Dean in the 1980s and 90s. She was looking for a way to support development plans which will improve the Cathedral now and in the future. Being a somewhat determined character who enjoys a challenge (and to the slight consternation of her children and grandchildren), Anne offered to abseil from the top of the North Tower of the Cathedral on her 80th birthday, at the beginning of July 2020. A great way to celebrate as she moves into another decade!
Times have changed dramatically and, as with so many other creative projects, this plan has had to be postponed for a year. However, Anne will still launch her fundraising campaign on her 80th birthday, 5 July 2020.
To find out how you can donate, email [email protected], or click the link below to make a quick and easy donation online (please mention Anne's 80th Birthday Abseil in your message).
Thank you.